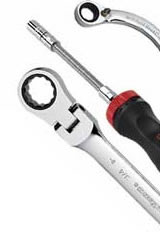 GearWrench Introduces 2-Position Ratcheting Screwdriver with LED Lights

Add to my favorite
2013-05-28
GearWrench, a premier hand tool brand from Apex Tool Group, known for tools that deliver speed, strength and access, announced the new 2-Position Ratcheting Screwdriver with LED light technology. The new screwdriver (sku # 82788) has two LED lights that help illuminate a work area, making it easier to work in poorly lit spaces.
The 2-Position Ratcheting Screwdriver with LED lights has a 45-tooth ratcheting mechanism with forward, reverse and locked positions to quickly tighten or loosen fasteners. The screwdriver features a stainless steel collar that magnetizes the bit tip to help hold fasteners on the tool, resulting in fewer dropped and lost fasteners.
With the 2-position handle, users can choose the position that is the most comfortable and provides the best leverage to turn the fastener. Users also benefit from 6-bit storage (Phillips #1, #2 and T15, T20, T25 and T127 included) in the handle, making bits easily and quickly accessible. The 4 ½-inch long shaft provides greater access for end users.